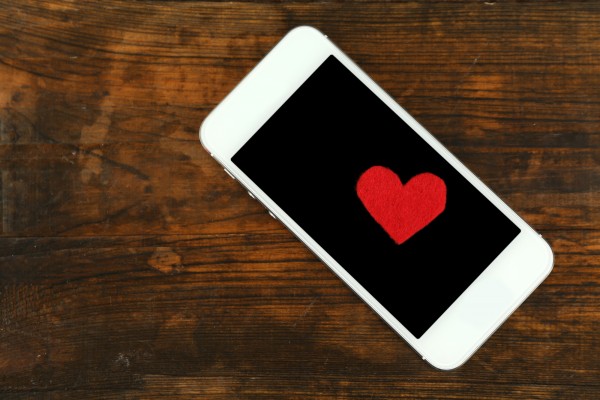 Today's post is by the ever-inspiring Kristen Welch of We Are THAT Family. She has a new book out titled, Raising Grateful Kids in an Entitled World and it's Fantastic! Enjoy!
…
I only did it to get a like.
I read this on a t-shirt at Target the other day.
I guess it's supposed to be cute, the only problem is, in many cases, it's true.
Our kids are growing up in a selfie society with technology in their back pocket, on their wrists, and just about every room in the house.
Media and technology are amazing tools. But when our children are just a click away from scary and damaging stuff, we have to be proactive in allowing them access.
Anything else is just simply irresponsible.
I've talked to moms who have 4th grade sons addicted to pornography and middle school girls who are suicidal because of hateful instagram feeds. We need to know what our kids are looking at–not so we can control everything they see, but so we can empower them to look away when they need to.
Here are some of our technology restrictions:
We get final say in what social media accounts our kids have, and we get to be their "friends" or follow whatever they sign up for.
We can read our kids' texts if they give us reason to.
We don't allow FaceTime or other video chatting, chat rooms, etc.
We won't let our kids interact online with people they don't know, whether it's gaming or followers on Instagram we don't know. Privacy settings on our accounts help control this.
We don't allow apps to be deleted, so we can monitor what's being downloaded.
We reserve the right to ask our kids to put their phones or media away at any time. After all, they are our phones that we are letting them use. I love what blog reader Kim Adam said: "I pay for it and that makes it MY phone. I am the parent and I will say when and where they can have it."
We require our kids to pay part of a bill if it is associated with technology.
We don't allow devices at the dinner table. And please, don't walk and text.
Ultimately, it is ours and we are letting our child use it. We can and will take technology away if we need to.
We have a no-media day every week. When we first announced this several years ago, I wish I'd videotaped the response. At the time, it wasn't funny. My kids flipped out—which proved the need for creating media-free hours. It took time and consistency, but they got used to it.
As far as social media and our kids go, we carefully consider each "new thing." The problem I see with social media is that it creates an alternative world that offers an inflated view. We can easily distort reality and show only the edited or filtered parts of our lives. I've certainly succumbed to unhappiness after a hop into Facebook, so I get it. I'm a middle-aged woman who feels the pressure, and considering that kids are more impressionable and naïve than adults is exactly why we need to be careful and involved.
I have mostly been really proud of my kids' choices, but they are human and we aren't done raising them. I know they will make mistakes and learn from them. We've discovered many teachable moments by getting involved in what they are seeing or saying on the Internet.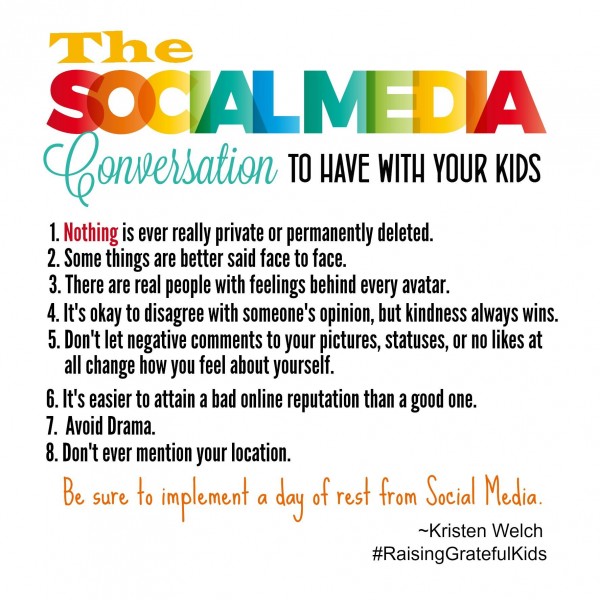 Here are 10 Technology Guidelines to Teach Our Kids:
Nothing is ever really private. Statuses and pictures can be shared and altered.
Or permanently deleted. Everything is traceable. I read something really disturbing on Facebook the other day from an old friend, and when I went back to show my husband because I was alarmed, it had been deleted. But it definitely wasn't forgotten.
Some things are better said face-to-face (like apologies or confrontations). Social media makes it easier for us to be cowardly. We need to teach our kids the value of looking someone in the eye and making things right. Sure, it's harder, but they won't forget it.
Remember there are real people with feelings behind every avatar. Lately, I've been on the receiving end of some harsh words. And sometimes I just want to remind the offenders that I'm a real person. I think it's good to teach our kids that our (online) words can hurt.
It's okay to disagree with someone's opinion, but kindness always wins. "If you are not kind on the Internet, then you're not kind." —Glennon Melton. It's as simple as that.
Don't let negative comments to your pictures, statuses, or no likes at all change how you feel about yourself. This one is especially important to teach our girls. There's this whole secret online code between mean girls, and we have to remind our daughters that who they are doesn't change because of how people see them.
It's easier to attain a bad online reputation than a good one—so watch what you say. We've all probably done something online that we regretted. Our words follow us.
Avoid drama. We all read and see things we don't agree with, and I want my kids to use self-control and click off that page.
Don't ever mention your location. Predators don't lure kids at the school bus nearly as much as they do online. Our children need to know the dangers of over sharing.
Take a day of rest from social media. Recently, I asked my teen to take a break from social media. She wasn't in trouble or doing anything wrong. I just noticed she was isolating herself and thought it would be healthy for her to take a couple of days off. Later, she thanked me.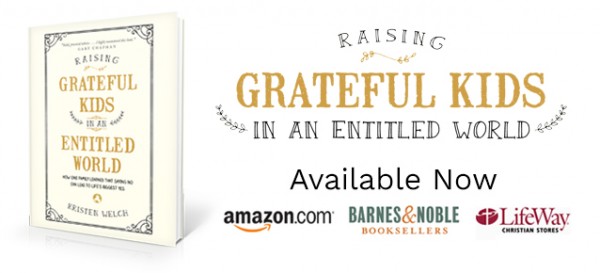 -excerpt from Raising Grateful Kids in an Entitled World: How One Family Learned That Saying No Can Lead To Life's Ultimate Yes
Kristen Welch blogs at wearethatfamily.com where she shares about parenting, marriage and inspirational encouragement. Her family founded Mercy House, a non-profit that empowers impoverished and oppressed women around the world. Kristen is an author and her newest book Raising Grateful Kids in an Entitled World is now available!
There are affiliate links in this post. Read my disclosure policy here.